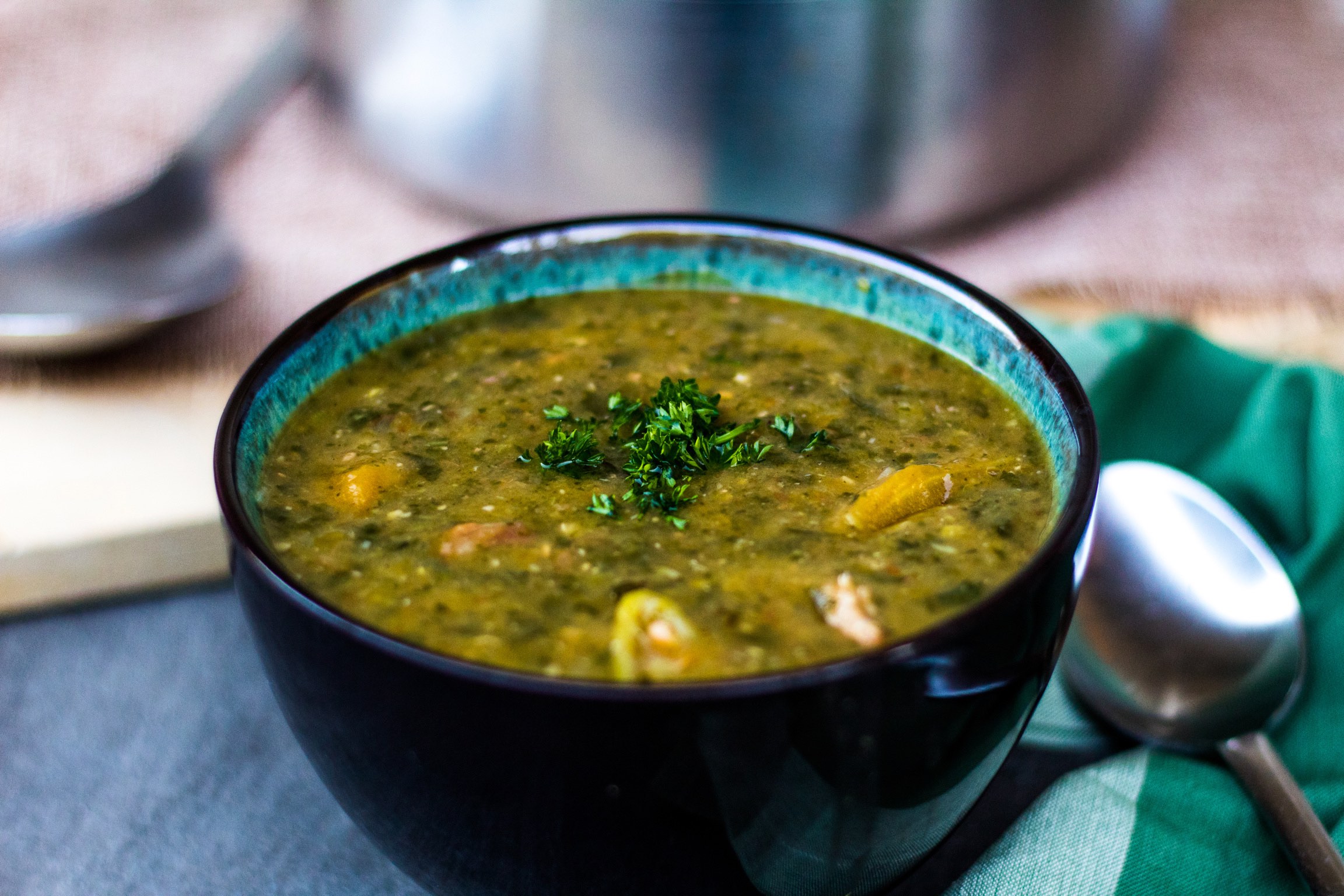 what exactly is Callaloo you ask? Callaloo is the country's staple vegetable and leafy green. It is the edible leaves of the Amaranth plant– and while it almost resembles spinach, it doesn't quite taste like it. It has a slightly bitter flavour with a nutty undertone. The most typical way it is enjoyed is as a side dish: chopped and steamed in a pot with scallions (green onion), garlic, thyme, scotch bonnet and coconut oil. Some variations include the addition of chopped okra, tomatoes, diced pumpkin or carrots. Another favourite and very popular add-on is saltfish.
One of my favorite ways to use Callaloo is in soup! Joanne shares her recipe below, on how to make her AMAZING soup here. Callaloo soup is usually thick with coconut milk, dasheen bush or greens, pumpkin and okra. Many cook it with pigstail or fish. The okra tends to make it on the thicker side like a gumbo consistency almost.
Ingredients
2 sweet potatoes peeled and chopped
1 cup of pumpkin chopped
1⁄4 cup of chives/green onions
1 onion chopped
3 cloves of garlic chopped
1 cup of lentils (I make sure to either soak them overnight or I will pre-boil them so they don't take long to cook or you could also used canned)
4-6 okra washed, ends trimmed and chopped
4-6 cups of cleaned and chopped dasheen bush or taro leaves (use spinach or kale alternatively)
2 tomatoes chopped
1 can of coconut milk
5-6 cups of broth or water
1 package of bacon chopped
1 tbsp of fresh thyme
1⁄4 tsp of crushed coriander
1⁄4 tsp of allspice
Salt and pepper to taste
2 tbsp of Olive oil
Directions
In a large soup pot heat up oil to medium and fry up bacon until crisp, then add you chives, onion and garlic and sauté for a minute or two
Then add in your pumpkin, sweet potatoes, Okra, tomatoes, and coriander, thyme and the allspice and salt and pepper to taste. Sauté for another minute and then add broth or water and lentils and let simmer for 10 minutes or so until the veggies start to soften
Once that happens add in your dasheen leaves and coconut milk and let everything simmer for another 20 minutes or until all the veggies are soft and lentils are cooked though. Add more broth or water as needed.
Take soup off the heat and carefully blend the soup using an immersion blender or you can do it in batches in a blender. I only do this to mainly break up the dasheen. I like leaving some chunky pieces of the sweet potatoes but feel free to blend it to the consistency you like.